Stories from the boardroom
By Clare Yeowart 29 June 2011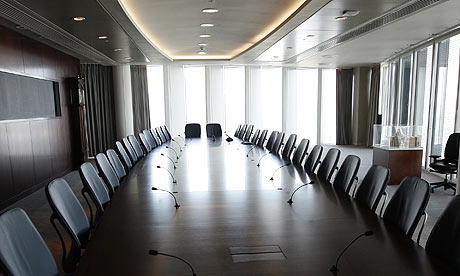 Last month, I was interested to see an article in Civil Society reporting that ACEVO has seen a huge increase in the number of calls to its 'Chief Executive in Crisis' helpline over the last year. And that 'The root cause of most of these calls was ultimately an issue with governance', as ACEVO's acting chief executive Peter Kyle noted.
I think this highlights two really important points. First, that charity chief executives face growing pressures and may need more support from their trustee boards. And second, that the relationship between the board and the chief executive is pivotal, so the breakdown of relations between the two can tip a charity into crisis.
I realise it may sound like I'm just stating the obvious, but what does all this mean in practice—what should trustees be doing to prevent the types of crises that Peter Kyle was talking about? In Stories from the boardroom, our new report published today, we share reflections and recommendations from trustees who attended a recent series of seminars we ran with The Clothworkers' Company. We also include a handful of case studies exploring how boards have tackled particular challenges.
One of the case studies is of Tomorrow's People, a national employment charity that helps excluded and disadvantaged people to get and keep a job. Over the last few years, the majority of the charity's income has come from government. But, as The Guardian reported last week, changes to government welfare-to-work funding means that Tomorrow's People is having to close three offices, lay off about 30% of its workforce and halve the number of unemployed people it helps to get back into work each year.
This is a grim situation and Tomorrow's People's chief exec, Baroness Stedman-Scott, hasn't been afraid to say so. However, the charity did, at least, see it coming and has been thinking hard about how it can sustain its services in the absence of government funding. Last year, the board decided to do a strategic review with PricewaterhouseCoopers. This looked at Tomorrow's People's programmes, considering the financial viability and impact of each.
The chair, David Stewart told us that this review has clarified their thinking on what they can do and where they can make a difference. The charity is now prioritising services with promising results that are funded by private money, and the charity's trustees are stepping up to support the new fundraising drive. For instance, trustees are attending important funding meetings with the chief executive and a working group of trustees is investigating alternative sources of funding such as social investment and partnerships with venture philanthropy organisations.
From his experience, David recommends that charities going through challenging times should look very hard at their boards. They should check they have people with the right skills and attitudes—and, crucially, that those people have sufficient time to invest in helping the charity. After all, 'If your charity is going through a period of change, then it is probably going to require a greater input of time and expertise'.
Footer